Software
SCREEENER CLOUD
The SCREEENR digital signage platform cloud components are the heart of the digital interaction platform. Giving you the freedom to seamlessly create, manage and run contents in one or thousands of displays independently.

SCREEENR DIGITAL SIGNAGE CLOUD
DIGITAL INTERACTION PLATFORM
The SCREEENR CLOUD consists of Content Manager, Content Designer and Player Element. These components work perfectly together to empower you creating and deploying digital interactive experiences.
From content creation, playlist building and scheduling to content delivery, SCREEENR Digital Interaction Platform makes it easy and intuitive for you to master your digital interactions. Create and deliver your digital experiences with confidence, knowing SCREEENR digital signage cloud platform will never turn you down.
Content Designer
Content Designer is an easy-to-use, intuitive, cloud-based, drag&drop design tool that helps users to design awesome, compelling and engaging digital interactions. It is reliable with workflows to share, modify and manage digital signage creations.
Content Manager
Our Content Manager is the control center of your digital signage platform, empowering you to manage, control and schedule content in one or thousands of screens at any locations. It gives you the confidence that you interact at the right time, the right place with the right audience.
Player Element
The Player Element is responsible for stable and reliable playback even if your network connection is unstable. It forwards content to SCREEENR Media Players using smart delivery technology.
Content Designer
Interact with eye-catching, dynamic, visual content
The intuitive digital signage cloud interface simplyfies the combination of content types such as text, data, images, graphics, video and animation for the ultimate engaging experience.
Drag&Drop creator
Easy data integration
Numerous content types
Endless design possibilities
Pre-set screen sizes and combinations
Include any webpages directly in your design
Content Manager
Control your digital interactions in the cloud
The digital signage cloud Content Manager allows you to manage and control your content live or schedule it based on business data. It empowers you to simply deploy content to your digital signage network, with several or thousands of media players, directly from the cloud.
Pair your content intuitively with any screen
Schedule your content or change the playback live
Manage your screens remotely
Elevate your special offers real-time
Control your in-store digital marketing channel centrally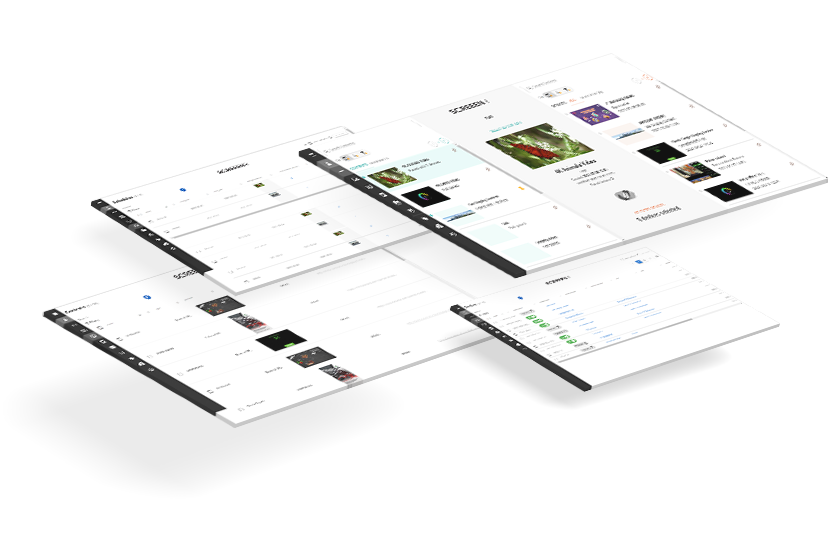 Request a quotation best fitting to your needs