Accessories
SCREEENER ACCESSORIES
SCREEENR hardware accessories are designed to fulfil your specific needs on top of usual requirements to provide outstanding digital experience to your audience.

Digital Signage Hardware Accessories
Digital Interaction Platform
Digital signage hardware accessories provide outstanding benefits many industries like retail, transportation, cafés, department stores and corporate communications. We carefully selected our hardware accessories to fulfil the special needs of the in-premise experience journey.
Hardware accessories are tested to fit in our Digital Interaction Platform – SCREEENR and works seamlessly together with our digital signage cloud solution. All hardware products within the assessory range serve to fulfil any specialties and unique functionalities to increase the in-store digital customer experience.
A-frame
Flexibility for the best experience
A-frame is our flagship accessory, thanks to its flexibility what makes it practical and gorgeous.
Compact sizes for all requirements
Cover all ceiling distance
Easy to apply
With or without battery
Black or white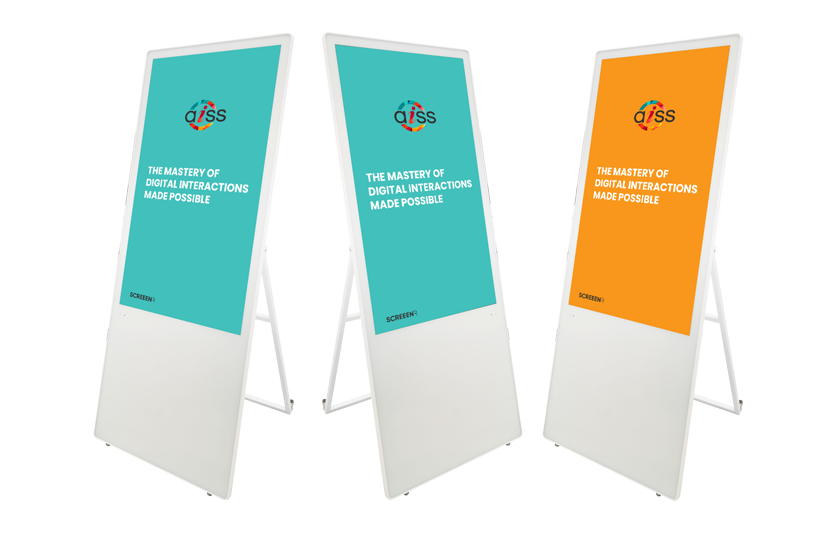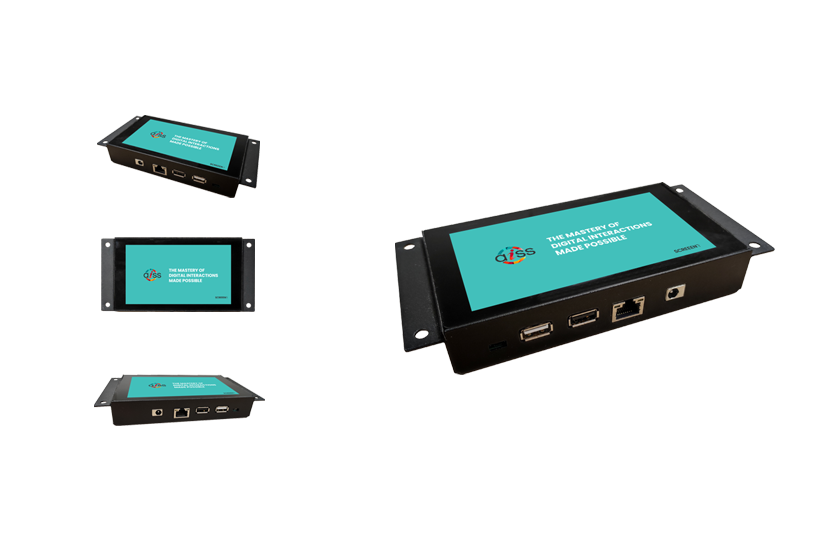 InteractR
On-the-spot interactivity
InteractR is small in size, but endless when it comes to possibilities. It grabs attention, interacts and amuses. Designed specially for premium product placements.
5.5", multi-purpose and compact design

Built-in to any store furniture or stand

Interacting and handy digital influencer

A store assisstant for premium products, cutting corners in the buyer journey
DuraSCREEN
Durability for any circumstances
DuraSCREEN is our most durable digital signage hardware assessory. Its durability helps to use it even under hard industrial conditions.
11.6" and aluminium alloy
Industrial appearance
Silent heat dissipation
Dust and waterproof alloy
Touchscreen
Robust, but interactive
With or without stand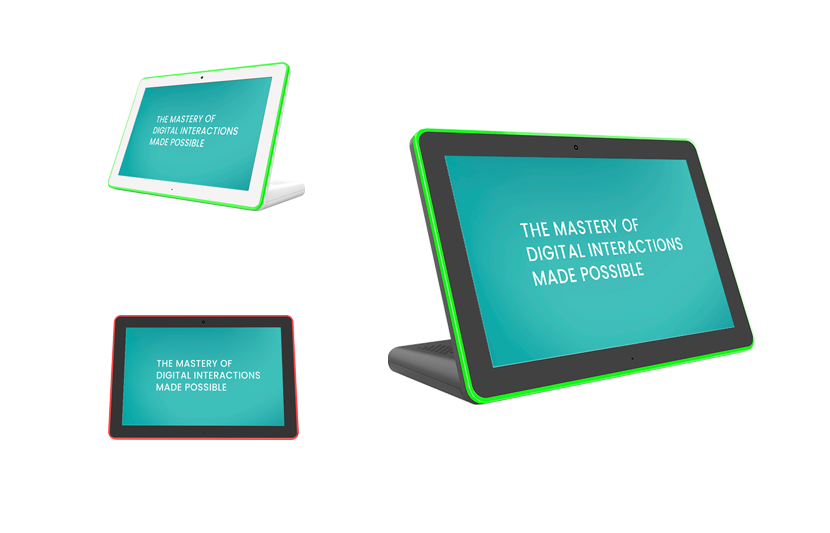 NgageR
Interact at every stage
NgageR is especially designed as a table top device. Easy to read and interact with.
10.1", cheerfully colored alloy

Practical stand with needful sockets

Touchscreen for instant interactions

Easy to read, thanks to the angle of the screen

Easy installation and handling
2NgageR
Double experience, huge social engagement
Duplicate the engagement of your guests with the 2NgageR device. Fun, practical and well-designed. It stimulates sharing and social interactions for seamless experience.
10.1", multi-purpose, double-design
Stands alone on top of furniture
Influencing fun activities and sharing
Easy to read, implement and handle
Duplicates the possibilities for engagement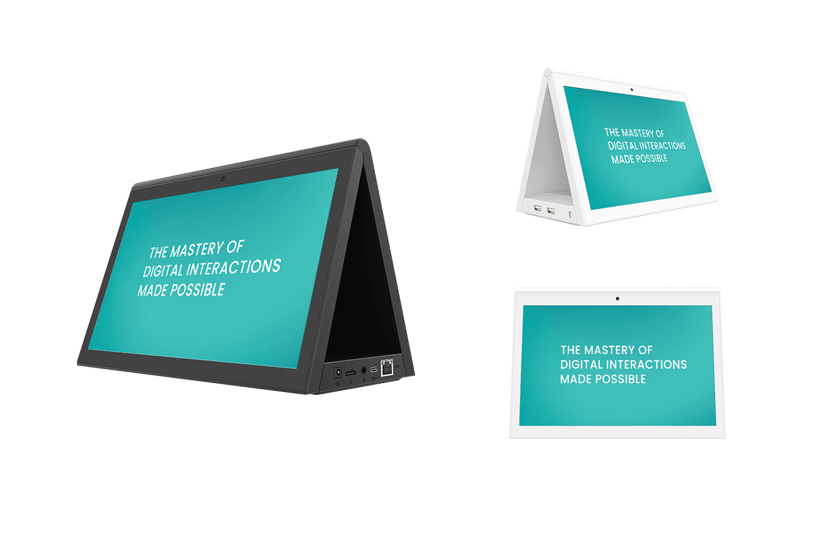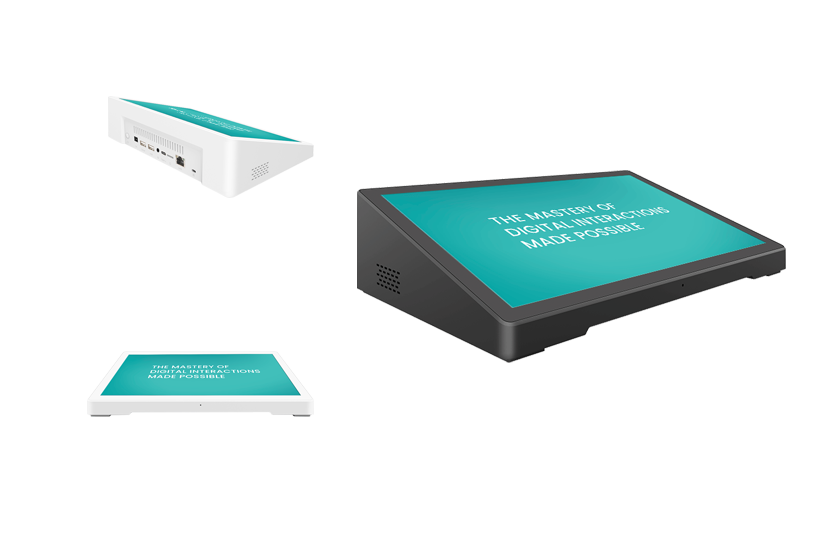 ComfortViewR
Comfortability for enhanced experience
ComfortviewR is designed for the top of assortment presentation tables to stimulate customers to interact. Comfortability with digital signage hardware accessories.
10.1", ergonomic alloy

Drives attention to stimulate informed buying decisions

Touchscreen for instant interactions

Easy to read, thanks to the angle of the screen

Easy installation and handling
FootfallCam
Sensor and cam technology that drives your screens
Show your visitors the info what they really need (focus on safety, information sharing, grab attention, know where your visitors go during their customer journey. Analyse the results and get better.
10.1", multi-purpose, double-design
Stands alone on top of furniture
Influencing fun activities and sharing
Easy to read, implement and handle
Duplicates the possibilities for engagement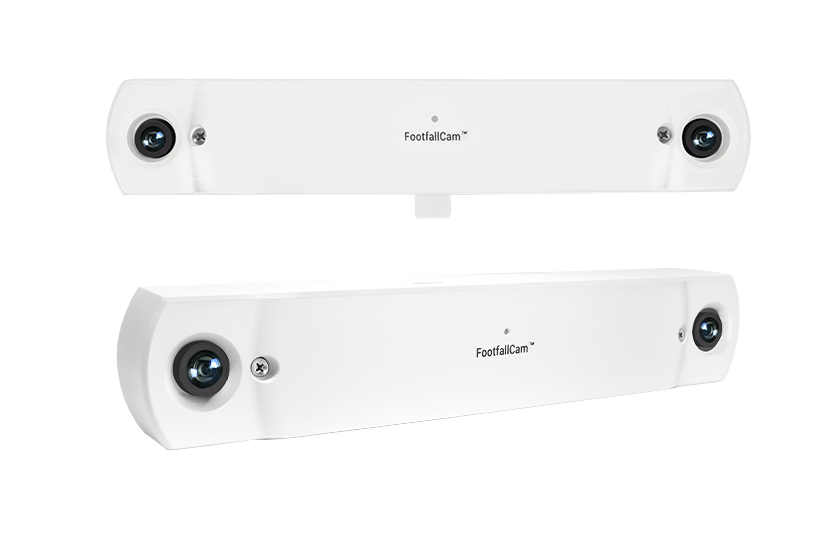 Request a quotation for your hardware needs