Restaurants, cafés and bars
Personalize your digital interactions with suggestive selling, insights and amusement of your guests.

Digital signage for restaurants, cafés and bars
War is out there amongst restaurants for the guests, the guests who are hunting for the best experience beyond eating.
Digital menu displays, including customer-facing touch screens, provide outstanding opportunities for customer interactions. Information about meal upgrades and related choices, increasing the average cart size. Through improved digital menus restaurants may display seasonal offers, various daily food and beverage options which may help to drive sales, to boost guest count, to attract them with more profitable items.
Traditional advertising became less effective and less engaging, and guests are tired with promotions. Digital signage for restaurants and cafés helps building new promotional channels with digitalized guest experience.
Digital interactions in restaurants
Enhance the guest experience with interactive digital menu boards
1. Utilize digital insights and suggestive upselling with digital interactive menu boards
2. Promote and build brand loyalty with delivering a unique guest experience
3. Personalize the guest experience with digitally interactive menu boards and touch screens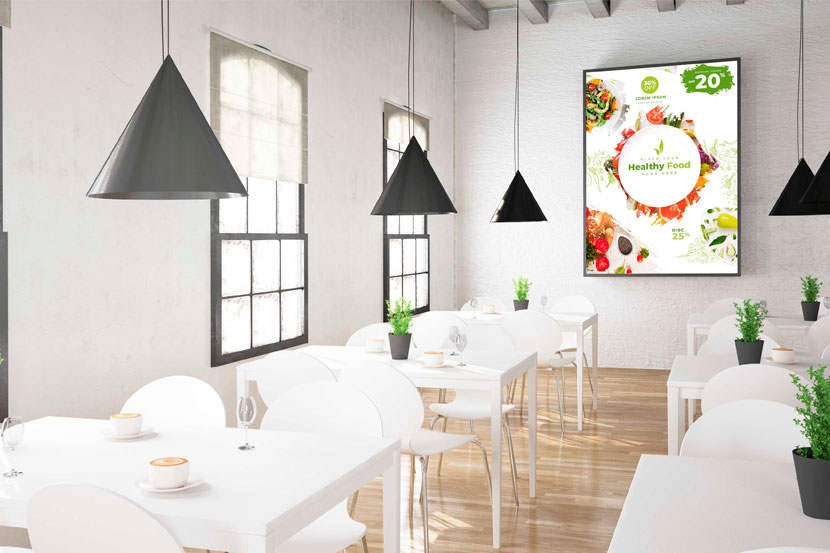 Attract
Make your premises stand-out with outstanding digital visitor experience
Increase implusive sales and traffic by using eye- catching, dynamic, visual content
INFLUENCE
Push your special offers real-time to interact at every stage
Capture more views of your targeted messages
Experience
Boost customer experience with extraordinary visuals
Allow your visitors to interact with your brand
Inform your visitors real-time
Bring the online experience offline
Integrate
Control in-store digital marketing centrally within multi-channel campaigns
Open new ways of digital communication
Save costs
Inform your customers to make your salespeople focus on closing deals
Forget costly and time-consuming printed marketing materials
Save the nature