Hospitality
Shed light on hotel services and local attractions to inform and entertain guests. Boost digital guest experience with digital signage for hotels and hospitality.

Digital signage for hotels
Engaging digitial signage can elevate the guests experience. Hotels using the right digital signage solutions reach a broader audience while build enhanced brand recognition and guest loyalty.
Hotel signage can interactively guide guests to attractions, events and amenities. You can promote specials and sales at onsite restaurants, shops and commonly used spaces. You make digital interactions with your guests through hotel digital signage and entertain them at the same time.
Hospitality interactions
Elevate guest experience and promote your amenities.
1. Make your guests excited to use the services of your hotel
2. Inform your guests about your promotions and event updates
3. Personalize your digital signage interactions with engaging games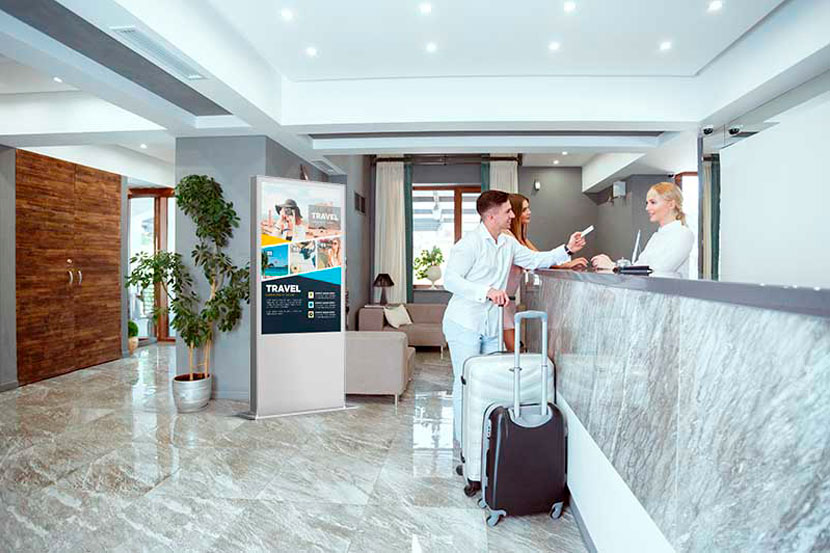 Attract
Make your premises stand-out with outstanding digital visitor experience
Increase implusive sales and traffic by using eye- catching, dynamic, visual content
INFLUENCE
Push your special offers real-time to interact at every stage
Capture more views of your targeted messages
Experience
Boost customer experience with extraordinary visuals
Allow your visitors to interact with your brand
Inform your visitors real-time
Bring the online experience offline
Integrate
Control in-store digital marketing centrally within multi-channel campaigns
Open new ways of digital communication
Save costs
Inform your customers to make your salespeople focus on closing deals
Forget costly and time-consuming printed marketing materials
Save the nature