Transportation
Inform and engage passengers with digital signage for transportation. Create interactions and personalize their travelling experience to keep them loyal to your brand.

Digital signage for transportation
Transportation digital signage gives shiny opportunities to inform and entertain travellers for their trip. Information can be tackled throughout the terminal, with real-time, useful digital signage updates such as status reports, schedule estimations and security information.
Inform the passengers to make the journey more pleasant. Entertain them by showcasing local events, charitable causes, or engaging digital content.
Make your vehicles and premises digitally interactive with the help of digital signage for transportation. Today's passengers want to be informed and want to spend their time during their journeys with pleasant digital experiences.
Digital signage for transportation
Interact at all level to create a memorable travel experience
1. Inform your passengers through real-time and cohesive digital signage interactions on various touchscreens
2. Understand the needs of the travellers through intelligent interactive touch solutions, help them find what they are searching for
3. Increase your profit by promoting related services or offering interactive digital activities of third parties to entertain travellers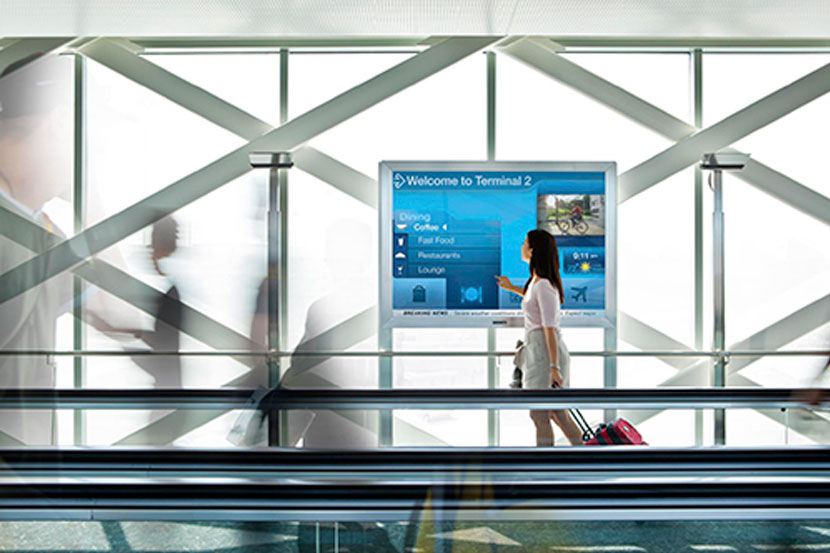 Attract
Make your premises stand-out with outstanding digital visitor experience
Increase implusive sales and traffic by using eye- catching, dynamic, visual content
INFLUENCE
Push your special offers real-time to interact at every stage
Capture more views of your targeted messages
Experience
Boost customer experience with extraordinary visuals
Allow your visitors to interact with your brand
Inform your visitors real-time
Bring the online experience offline
Integrate
Control in-store digital marketing centrally within multi-channel campaigns
Open new ways of digital communication
Save costs
Inform your customers to make your salespeople focus on closing deals
Forget costly and time-consuming printed marketing materials
Save the nature